123TV.Live is a live TV streaming site that allows you to watch Live TV stations from the USA and Canada. The site offers 80+ live tv channels that you can stream for free without any account or subscription. You even get access to sports programming from ESPN, Fox, and more.
If the 123TV Live Videos are Not Working on Chromium Browser or if live streams aren't loading, then below are some of the best solutions to fix 123TV.Live Not working on PC Browser.
Basic Fixes you can Try
Before moving forward with the technical fixes for 123TV not working issue on PC Browser, we can try these basic fixes to see if the issue is resolved.
Make sure you have the latest version of Chrome installed.
Try an alternative browser or incognito mode, or guest mode.
Check your internet connection. If your connection is slow or unstable, it could be causing problems with streaming.
Restart your computer. Rebooting the PC will restart all system processes and close unwanted background processes.
Note: Not all the Live TV Stations are Running on the Site. Few of the streams are not loading or showing some error message.
1. Check VPN and ISP Blockade
The site loads live tv, and some of the streams may not work due to proxy settings; being a non-legitimate streaming site, the quality and reliability of streams cannot be ascertained. There are two things to look at; first, a few streams may not work outside the USA; therefore, it is good to use a VPN with a US IP address.
Secondly, your ISP may have blocked the streaming, thus preventing the content to load. The reason for the block could be an order from your local federal agency or a copyright notice from the production house. Anyway, you can access the content using a VPN or Proxy server.
If you are already using a VPN, then it is better to Turn it Off and check if the streams are working without any proxy filters. Sometimes, the VPN itself may cause issues with the stream.
2. Video Host Not Working
Streaming services generally do not host content on their platform but use 3rd party video hosting providers to stream Live Channels. The sites have embedded videos for the viewers to access the content. Even if the site is loading, the video hosting may not work, and the video will buffer continuously.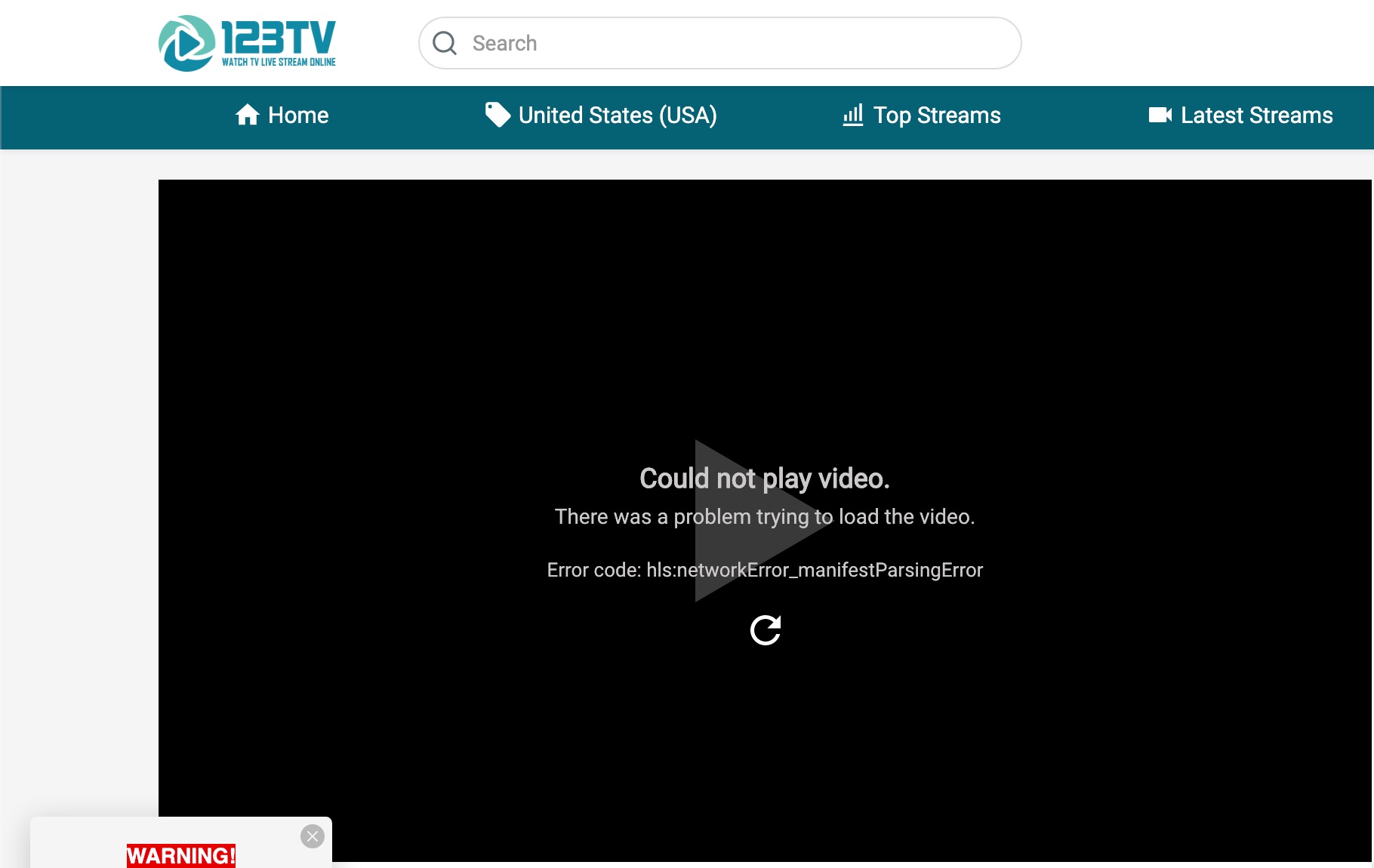 The video loader will either show an error "Cloud Not Play Video, There was a Problem Trying to Load the Video" with a black screen. There is not much we can do; using a VPN can help you fix the issue, or the developer will try to fix the issue.
3. Change Browser DNS
DNS is a set of IP addresses that are retrieved when we request. If the 123TV site is not loading or the video element shows a playback error, then changing the DNS can be handy. Changing DNS does not affect internet speeds or block any sites.
Open Chrome Settings.

Click on Privacy and Security.
Here under Use Secure DNS.
Click on With customized and change the DNS from the dropdown menu or enter the best DNS you know.

| DNS Server | DNS 1 | DNS 2 |
| --- | --- | --- |
| Google Public DNS | 8.8.8.8 | 8.8.4.4 |
| Cloudflare DNS | 1.1.1.1 | 1.0.0.1 |
| Quad9 DNS (IPv4) | 9.9.9.9 | 149.112.112.112 |
| Quad9 DNS (IPv6) | 2620:fe::fe | 2620:fe::9 |
| OpenDNS | 208.67.222.222 | 208.67.220.220 |
4. Disable Chrome Extension
Browser add-ons are the best productivity tools that can boost the performance of any web browser. They run simultaneously with the page load to check if there is any action to perform. If you using any content-blocking extension or code injecting/modification extension, then I recommend you disable the addon and check if the video streams are working or not.
Enter chrome://extensions
Here look for the extensions that may block content or restrict the page loading.
Disable the extension by turning off the toggle.

Now reload the page and check the site should be working now.
5. Clear Browser Data
If the 123TV Live video is not loading or taking a long time to load, then clearing the data and cache build-up of the browser will help you fix the issue. It is best to delete the Chrome browser data & cache and check if the streams are working after purging the data.
Open Chrome Settings.
Click on Privacy and Security.
Here click on Clear Browsing Data.

A pop-up box will open. Under the Advanced tab, select All Time as Time range, right-tick on Browsing History, Download History, Cookie, and other site data, and Caches images and files.

And hit Clear data to fix Video Loading issues on Chromium Browser.
That's it; with this simple guide, you can fix any 123TV.Live not working or video streaming issues on your Chrome or Chromium browser like Edge.